Journey
survival project volume 2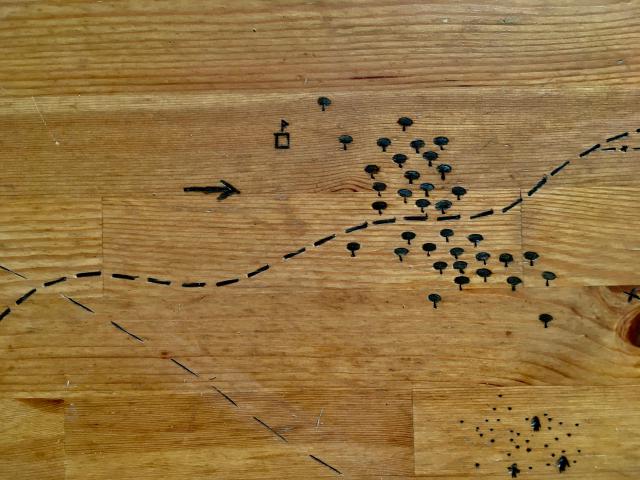 Charting pathways through difficult terrain, this project is inspired by the ongoing refugee crisis around the world.  
JOURNEY is a multi-sensory experience of geography and migration, intersections and diversions, what to carry and what to leave. The installation features a kitchen table etched and burned with landmark icons, self-printed layered maps, a bubble chair with immersive travel sounds, and a wall of wheat-pasted drawings enlarged from our flip-guide for fleeing refugees. 
2019, The Growlery, San Francisco, CA                                     
2020, Santa Clara University, Santa Clara, CA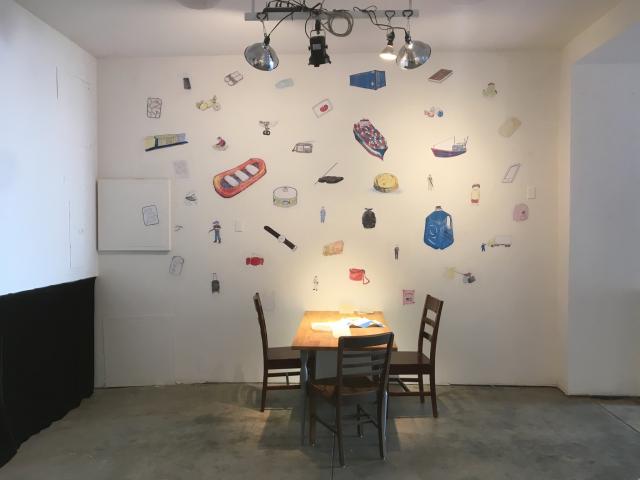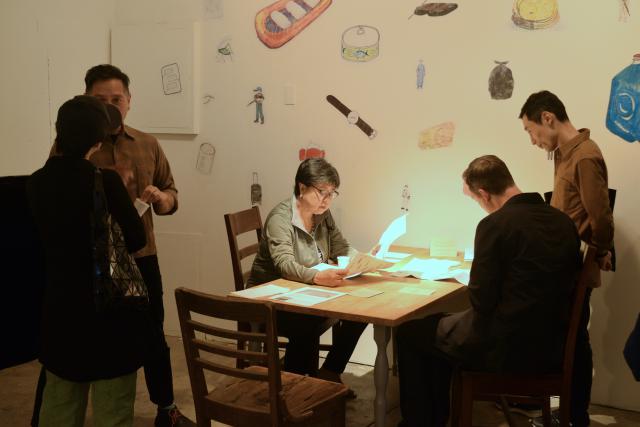 Kitchen Table: A familiar space where families ponder a life-changing decision – to stay or leave their homes – as uncertainties float above their heads.The wooden table was etched and burnt with the terrain of journey ahead, a tactile mapping of unfamiliar lands coded with secret symbols of survival. The drawings were inspired by the styling of actual guides prepared by and for refugees.  
Visitors sit together to contemplate and discuss fleeing their homes. They review maps, learn lessons from others, and answer questions of life-and-death.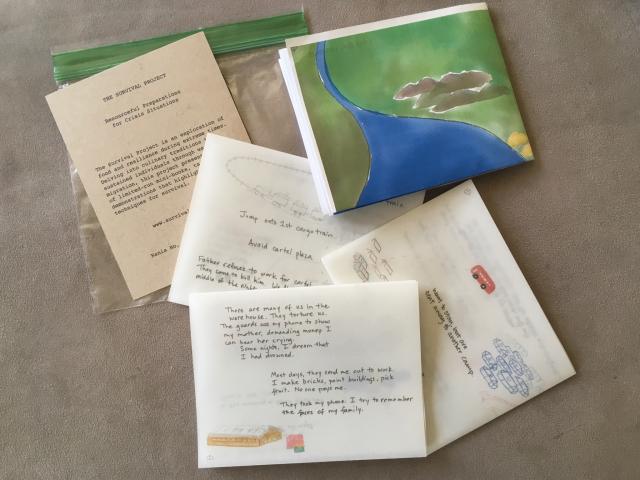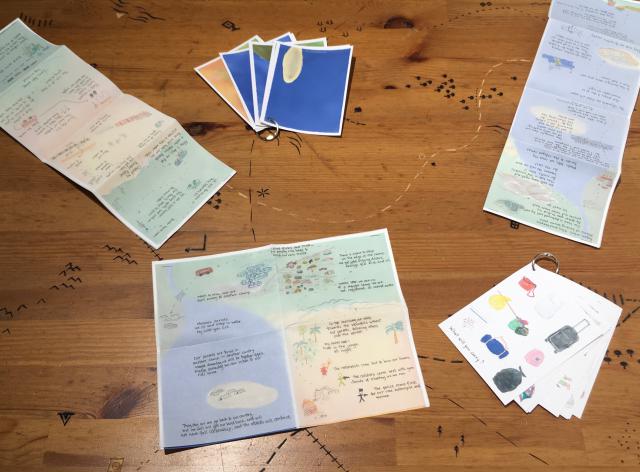 Maps: Packed in a zip-lock bag, for protection against the elements, are three maps of  journeys toward refuge and safety. Diverse stories float on translucent vellum layers above the natural landscape, the land remaining the same as narratives change. Each vellum layer is a composite retelling of the experiences of real people fleeing gangs in Central America, ethnic cleansing in Myanmar, and the Syrian civil war. 
Flash cards: Reversible, illustrated flip cards ask vital questions of preparation. What will you take? What must you leave? Who can help you? Who will hurt you? How will you travel? What will you eat? How will you pay?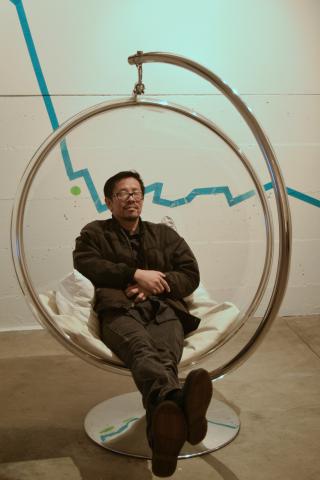 Sound Bubble: In a rocking, suspended space, a transducer speaker conveys sounds of transit to the entire body: a motorboat's hum, gravel crunching underfoot, the clacking wheels of a cargo train, the crashing waves of a wide sea. We found this very comfortable chair, cushions included, left as trash on a street not far from the gallery. 
In later installations, the audio emits quietly from the Kitchen Table itself. 
Listen: survivalproject.net/shared/journey-audio.mp3 
  
Video
Further reading
Articles & Reports
Aljazeera, "The Rohingya Crisis Explained in Maps."
Amnesty International: "Invisible Victims: Migrants on the Move in Mexico."
BBC News, "Why is There War in Syria?"
Koeppel, Dan, "The Holes Found in the U.S. Border Fence Technology."
The Nation, "Migrant Voices" Series.
Chick, Kristen, "Two Syrian Refugees: A 1,500-mile Journey of Hope and Hardship."
ECPAT Factsheet: "Sex Trafficking of Children in Mexico"
USA Today, "The Wall: An In-Depth Examination."                          
Migration Policy Institute, "Before the Boat: Understanding the Migrant Journey."
Books
Urrea, Luis Alberto, The Devil's Highway: A True Story.
Voice of Witness Oral History Book Series
Nowhere to Be Home: Narratives from the Survivors of Burma's Military Regime
Out of Exile: Narratives from the Abducted and Displaced People of Sudan
Solito, Solita: Crossing  Borders with Youth Refugees from Central America
Secretaría de la Relaciones Exteriores: Guía del Migrante Mexicano
Agencies
Frontex: European Border and Coast Guard Agency
U.S Immigration and Customs Enforcement
UNHCR: Figures at a Glance.
UNHCR: Situations and Emergencies.             
2019, The Growlery, San Francisco, CA                                    
2020, Santa Clara University, Santa Clara, CA