Famine
Survival Project Volume 1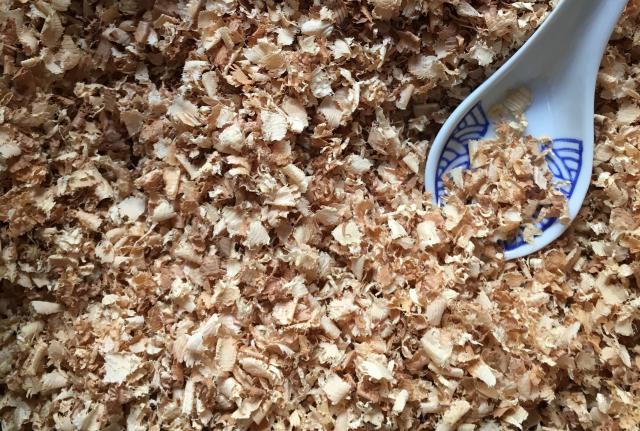 This collaboration was inspired by an article in The New Yorker that detailed survival plans of high-tech billionaires. 
FAMINE is a set of three hand-illustrated, home-printed folios. Printed to emulate thin newsprint-like emergency leaflets, each folio highlights a different food that sustained communities through war: Cassava, Rice, Pine. We retell our family experiences through survival skills: what foods grow beneath Agent Orange, how to swallow dry-roasted rice silently in the forest, where to strip the most nutritious layer of tree bark. We include an annotated world map of 20th-century famine and an anatomy guide to how human organs fail, one by one, as the body slowly starves. 
A special edition of FAMINE accompanies boxed tasting kits that evoke both restaurant take-home containers and at-home meal prep services. Each kit contains 10 different samples of famine foods, such as leather strips, wallpaper scraps, rice roots, and wood shavings; the ingredient packets list prep instructions based on oral histories from survivors. Another version of FAMINE features a tasting buffet of survival foods. From a distance, the table looks typically styled for abundance. However, attendees soon see that the evening's bread is made from sawdust, the crackers from seaweed and oats, the soup from glue, the tea from pine needles. FAMINE's folios are currently reproduced as a zine and sold through bookstores and online.
2017 — 41 Ross Gallery, San Francisco, CA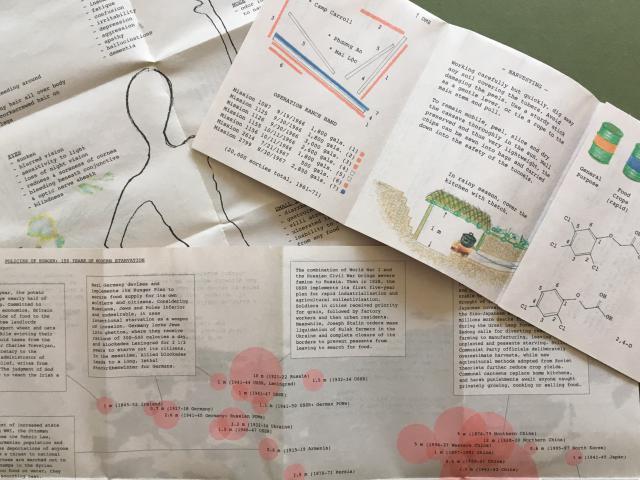 Famine folios: Instruction guides for fending off starvation from war, capitalism, and other man-made crises. Each folio highlights a different survival food: Rice, Cassava, Pine.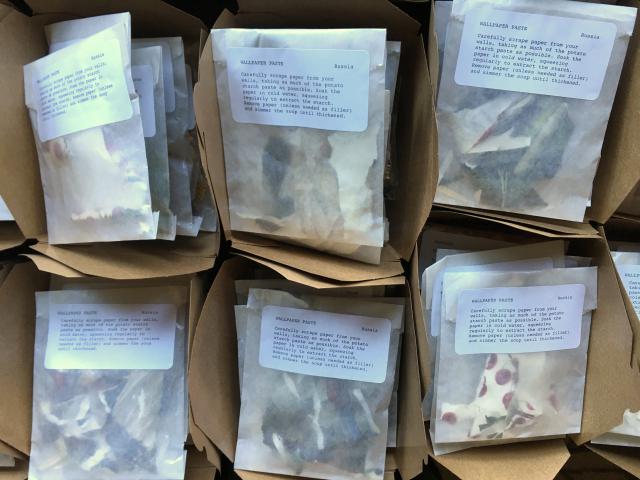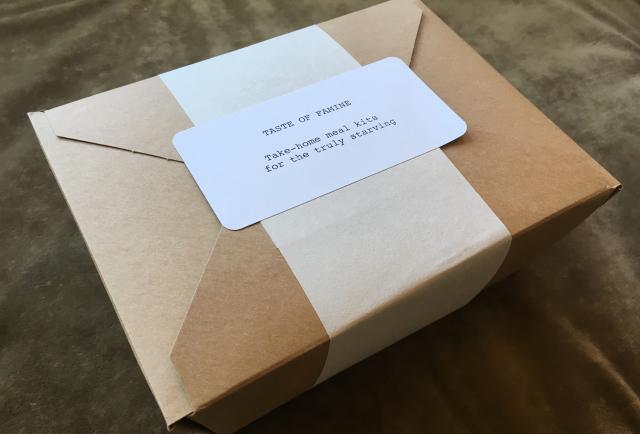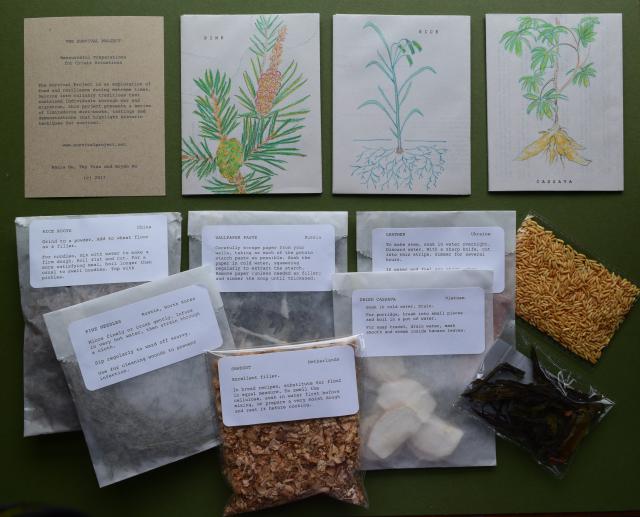 Famine Meal Kit: Box of ingredient packets plus folios. Vellum envelopes with samples of foods such as leather, bark, and sawdust. Labels include country of provenance and cooking instructions, revealing oral history while playing with trends and conventions of food service.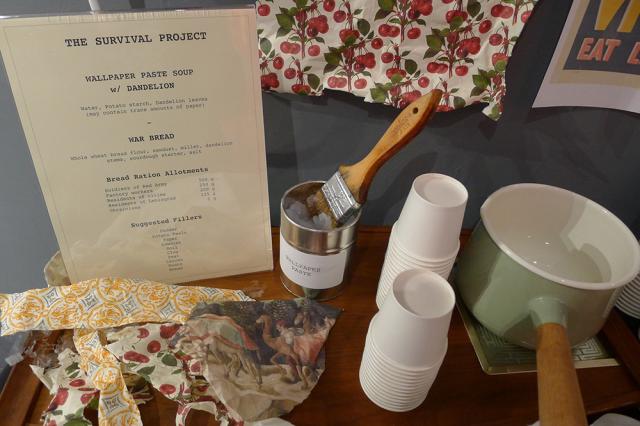 Famine Buffet: Tastings of real meals, from the sawdust bread and wallpaper paste soup of the Leningrad Blockade to the hard-toasted rice and dried cassava chips prepared during the Japanese invasions of China and Vietnam. Appropriating the visual cues and service language of upscale food events, the experience emphasized the drastic measures that people used to stave off starvation. (All tastings were edible and food-safe.)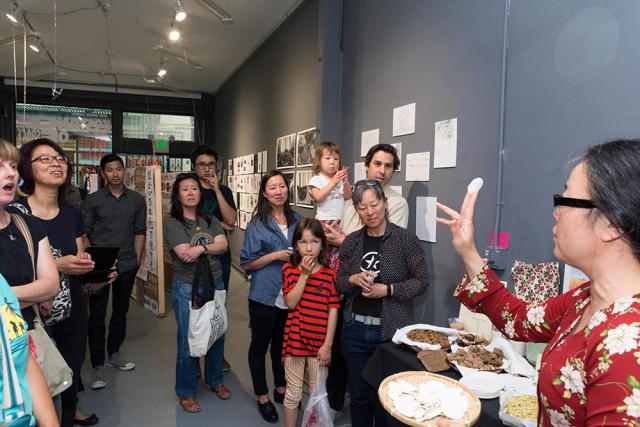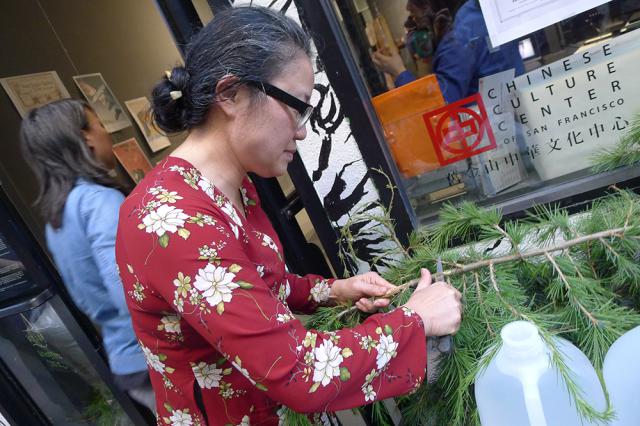 Hands-on Food Demonstration: We taught skills such as how to peel back pine bark for the nutritious cambium layer and how to dry-toast rice carefully without scorching to eat later while hiding in the hills from troops. Attendees could practice for themselves. Elders present shared their stories with younger generations who never knew the history. Our event attracted steady attention and engagement with passersby.
Video
Photos of the launch event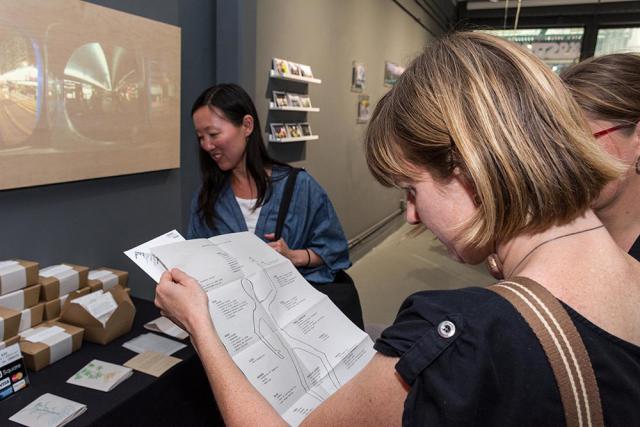 (Michael Kressner Photography)
BEhind the sCenes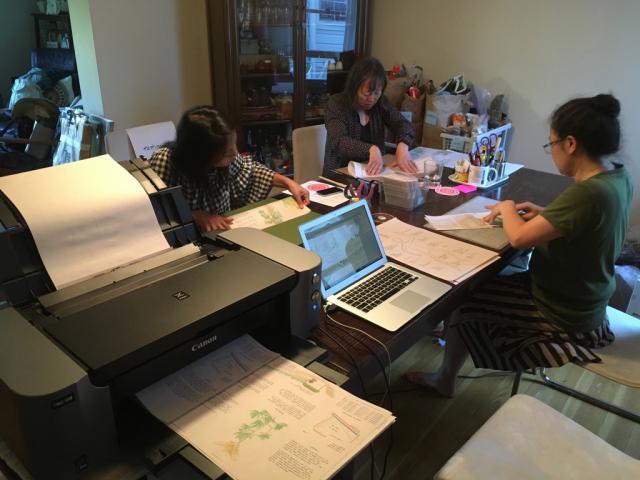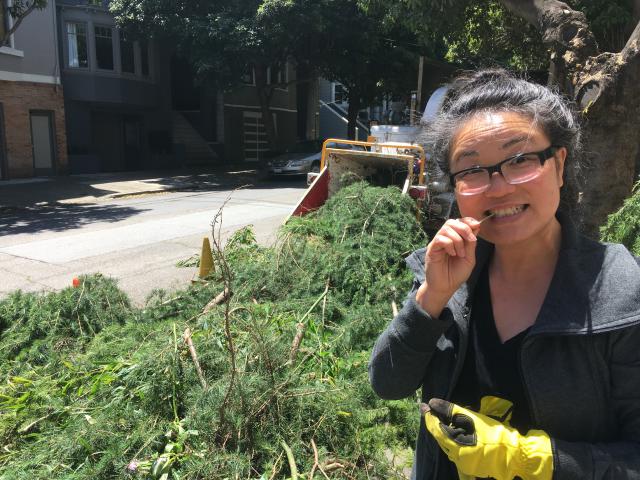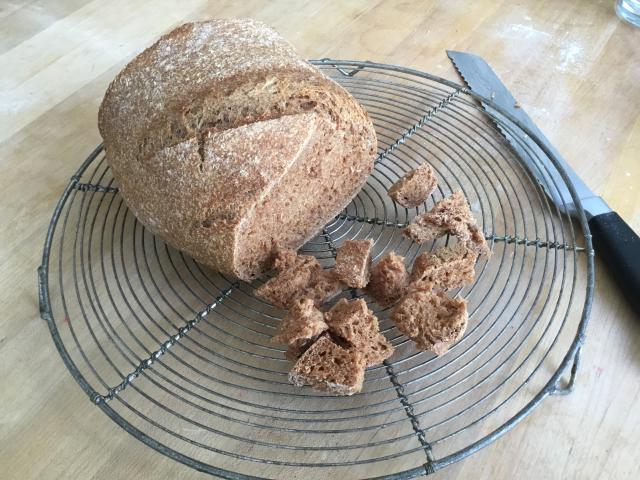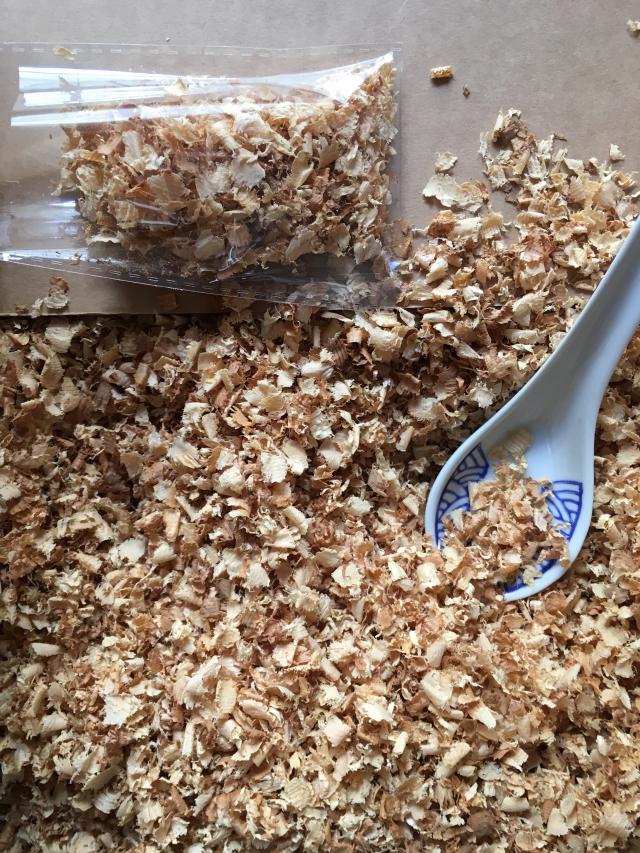 Hunger
"The Almighty, indeed, sent the potato blight, but the English created the famine."
— John Mitchel, 1848
"The road to revolution is long and arduous. We may have to go on an arduous march, during which we will have to chew the roots of plants once again."
— Rodong Sinmun, North Korean state newspaper, 2016
"Your dogs and swine eat the food of men, and you do not make any restrictive arrangements. There are people dying from famine and you do not issue the stores of your granaries for them. 
When people die, you say — It is not owing to me, it is owing to the year. In which way does this differ from stabbing a man and killing him and saying — It was not I, it was the weapon?"
— Mencius,  4th century BCE  
Sources                              
Black, George. "The Lethal Legacy of the Vietnam War." The Nation, 16 March 2015. 
Collingham, Lizzie. The Taste of War: World War II and the Battle for Food. New York: Penguin, 2012. 
Devereaux, Stephen. Famine in the Twentieth Century. Institute of Development Studies, 2000. 
Famine Trends Dataset, World Peace Foundation, The Fletcher School, Tufts University, 2017. 
Gildea, Robert, Olivier Wieviorka, and Anette Warring, eds. Surviving Hitler and Mussolini: Daily Life in Occupied Europe. Oxford: Berg, 2006. 
Institute of Medicine (US) Committee to Review the Health Effects in Vietnam Veterans of Exposure to Herbicides. Veterans and Agent Orange: Health Effects of Herbicides Used in Vietnam. Washington, DC: National Academies Press, 1994.
Ó Gráda, Cormac. Famine: A Short History. Princeton: Princeton University Press, 2009. 
Piantadosi, Claude A. The Biology of Human Survival: Life and Death in Extreme Environments. New York: Oxford University Press, 2003. 
Phạm, Cao Dương. Vietnamese Peasants Under French Domination: 1865-1945. Berkeley: University of America Press, 1985. 
Tucker, Todd. The Great Starvation Experiment: The Heroic Men Who Starved So That Millions Could Live. New York: Free Press, 2006. 
Yang, Jisheng. Tombstone: The Great Chinese Famines, 1958–1962. New York: Farrar, Straus and Giroux, 2013.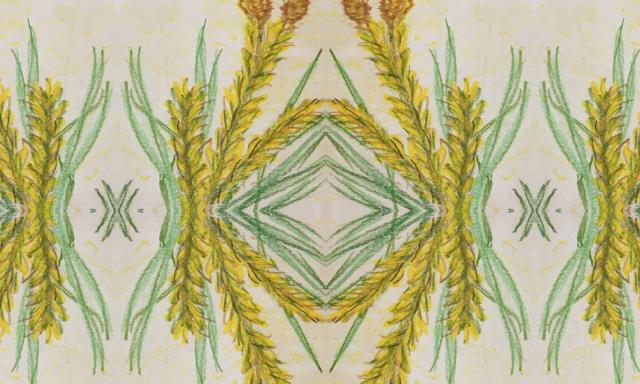 Thank you: Earl Gonzalez, Denise Ho, Winifred and Eugene Ho, Michael Kressner, Chau Smith and Pearl Wong
Special thanks to: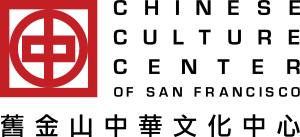 2017 — 41 Ross Gallery, San Francisco, CA